As I write this, I am sitting in a
Starbucks
in east Pasadena. My daughter is taking some online summer school courses which require her to be on campus for two hours, two days a week. So, since I live about 8 miles away, instead of going home (and wasting gas), I'm taking the two hours to be productive here at Starbucks.
So, sitting with my grande latte, I decided to blog about what I usually do when I have down time - as defined by sitting in the car waiting to pick my daughter up from school, waiting for a doctor's appointment, waiting for a game/concert to begin, etc. - I read and/or blog.
Using your downtime productively can benefit you as it helps you feel as if you're getting things done rather than being non-productive. And we all know that feeling productive creates positive feelings thereby leading to a more productive life.
I
always
keep a book in the car. If I'm reading a magazine (my own) and I see an interesting article which I don't have time to read right then, I tear it out and put it in my reading tote which I take along with me. Then I can read it at my leisure.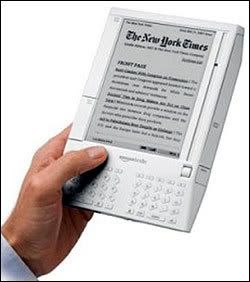 I'm actually thinking about getting a
Kindle
which is an electronic hand-held book device sold by Amazon.com. They've recently reduced the price by $50 which could mean one of two things: they're coming out with a revised model or they aren't selling very well. Any ideas?
With the Kindle, you can download books, magazines and newspapers onto the device. It works great for frequent travelers who don't want to lug heavy books in their carry-on or check-in luggage. When I travel, I usually bring along 5-6 books since I read a lot. This would reduce the amount (and weight) of my luggage which becomes a good thing since now some of the airlines are charging for each checked bag.
I would love to hear some ideas about how you use your down time.