Summer's almost over – boy, did it go by fast. It's time for school to start again and this year, let's work on getting the kids organized.
About two years ago, I stumbled upon a wonderful book that inspired me to get my daughter organized for her first year of high school. The book is entitled
The Organized Student: Teaching Children the Skills for Success in School and Beyond
by Donna Goldberg. I will be incorporating some of her ideas into this and future articles as well as including my personal experiences with student organization.
Most of our kids carry a backpack to school each day. And when they come home at night, the backpack is stuffed with papers, artwork, books, and homework assignments.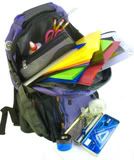 In a perfect world, our kids would remove the papers and homework assignments, file the papers and complete the homework. Then, if we're lucky, they will stick the completed homework back inside the backpack and turn the homework into the appropriate teacher the next day.
My personal experience with my daughter was that she would remove the school papers and leave them somewhere on the floor of her room, in no particular order, where they would stay until I found a place to put them. She would complete the homework, stick it into a notebook and put it in her backpack. Sometimes in the rush to get ready for school, she would forget which notebook she put the homework in and panic would ensue.
I decided to create a file system that was easy for her to follow. I purchased two sets of plastic three-drawer containers from Staples and labeled each drawer with one of her class subjects.
When she brings the papers home, she only has to put the appropriate subject papers into the appropriate subject drawer. An easy solution that works well for my teenager.
I highly recommend reading The Organized Student if your child has problems with organization. I am also available to assist in this organizing process.
Next up, tackling homework organization. One of a continuing series of I blogs on student organization I will be posting during the next few weeks. I hope everyone has a wonderful (and organized) school year.