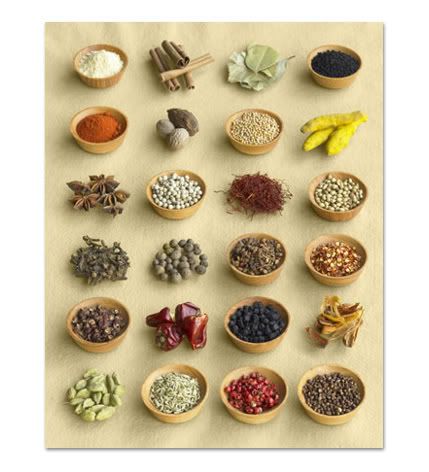 I tend to use spices more during the holiday season than at any other time of the year. Sage for the Thanksgiving turkey, cloves and ginger for the pumpkin pie, not to mention spices for all those Christmas goodies we love to bake and the nutmeg for the eggnog.
The holidays are also the time I try and replace my spices with fresh ones. The shelf life of most common spices is 6 months to a year, at best.
According to
Southern Living's
Storage & Organizing Magazine, the 10 most common spices are:
basil
bay leaves
cayenne pepper
chili powder
crushed rosemary
cumin
garlic powder
ground cinnamon
italian seasoning
thyme
I have to add oregano, parsley, ginger and curry to this list for me.
Store spices in a cool, dark, dry place, away from the stove and heat. Keep spices contained in their original jars with the lids screwed on tightly.
I try not to buy the larger sizes of spices unless I know I will use them frequently. Spices like allspice, cloves, sage, rosemary, cumin and cardomom come in convenient small containers which makes it easier to toss them when they get old. Watch for coupons in your Sunday paper to save on spices as well.