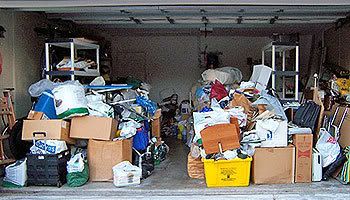 Now that summer has ended and the weather is cooling off, it's time to tackle that messy garage. Make sure to pick a weekend when the weather will be favorable with no rain in the forecast.
First, go through and remove anything you know you will be giving away and get it out of the area right away.
Then, start early on a Saturday or Sunday morning. Eat a good breakfast and bring water outside with you to keep you hydrated during the day.
Take EVERYTHING out of the garage and sort it into categories:
Gardening/yard:
lawn mower, rakes, shovels, potting soil, flower pots, weed-wacker, hedge trimmer
Tools:
tool boxes, electrical tools, cutting saws/tables
Recreation/sports:
skis, skates, bicycles, helmets, bats/balls
Auto supplies:
motor oil bottles, jacks, car covers,
Holiday/other decorations:
Christmas tree, Halloween decorations, ornaments, flags
Bulk items (groceries/durable goods):
paper products, cans of food
After you have finished sorting, go through each category with an eye toward honesty: What do the kids still play with? What do you really use? Are you still skiing? Snowboarding? Roller skating? Biking?
Once you've pared the contents of your garage down to those items you can't live without, you can begin the organizing process.
Create zones in your garage for each category you've organized your belongings into. Each of the items in the above categories should be stored with the other items in that same category; i.e. lawn and garden items should be kept together, holiday decorations should be stored in containers - labeled and sorted by holiday. Keeping the same holiday decorations together will save you an enormous amount of time when decorating for the holidays.
Once you've established the zones for your belongings, now is the time to purchase containers for those belongings.
Clear plastic containers work well because they stack nicely and you can see what is inside. Rubbermaid and Sterilite make excellent containers and they are readily available at Target and Walmart nationwide. Label each box with its contents and stack together with the labels facing outward.
As I've said before, cardboard storage boxes don't do well in garages due to possible insect or rodent infestation or if the garage gets wet.
Who knows, after you're done cleaning and re-organizing your garage, you just might be able to park your cars inside again.