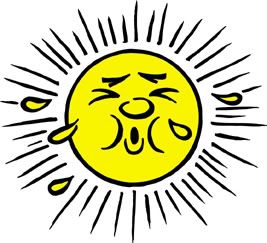 So, how do you stay cool in the summer heat? Right now, it's 104 degrees outside and I'm trying to keep air conditioning costs down by only running the air conditioner when absolutely necessary. Here's what I try to do to help stay cool without incurring crazy electricity costs:
Close blinds and curtains early in the day to keep the sun and heat out. Run ceiling and portable fans to increase air circulation.
Try and get your errands and yard/outside work done early in the day and spend the afternoons inside where it's cooler. I'm thinking about watching a Netflix movie in the next few minutes - Now Voyager starring Bette Davis.
When the weather starts to cool down (if it does) in the evening, open screened doors and windows to let in the cooler air but keep pesky mosquitos and other bugs outside.
I think it's going to be a long summer so grab that cold glass of iced tea or lemonade and enjoy the great indoors during the heat of the day.